Tea master Shigeyuki Tsuji's refill of 50 cups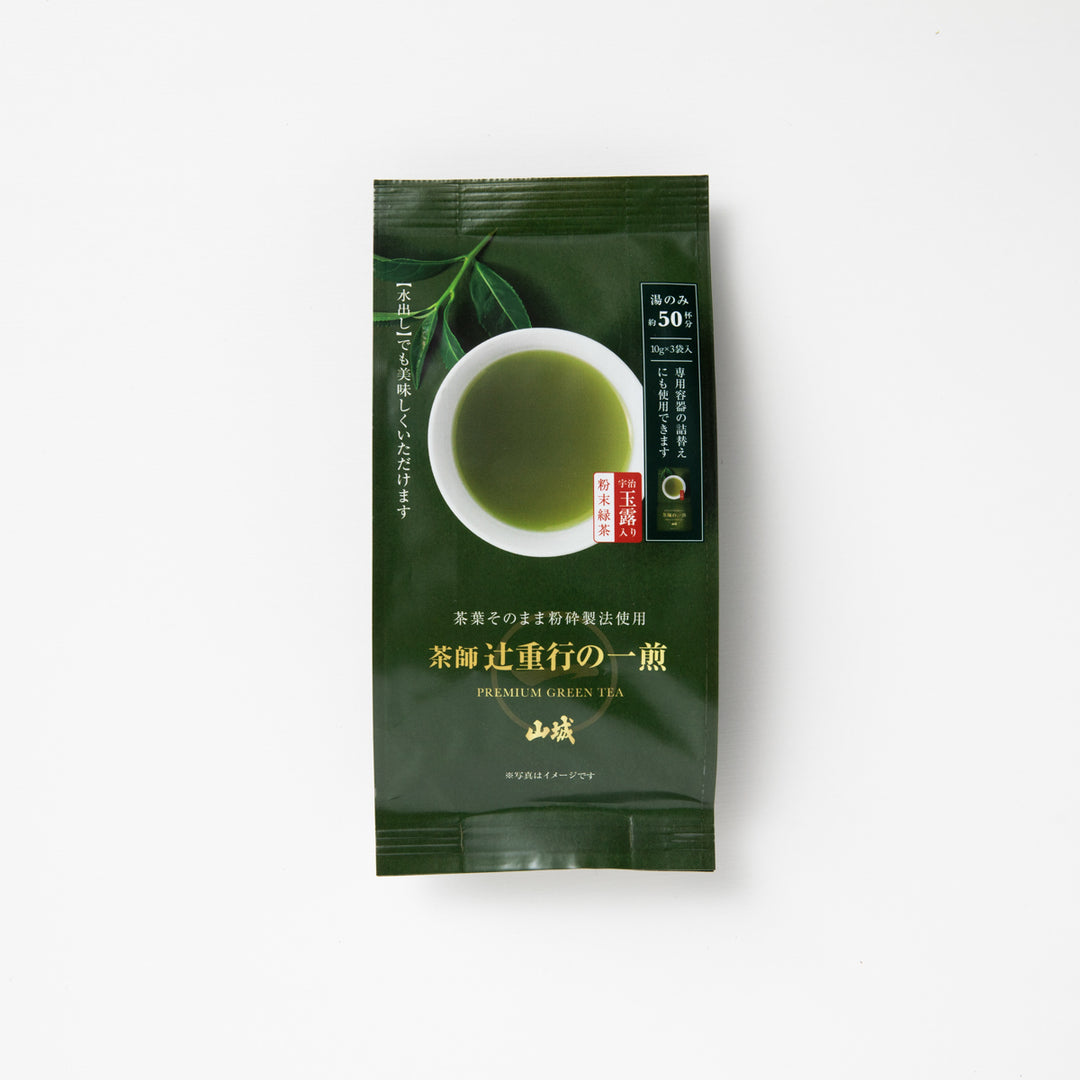 [For refill] The ultimate single-infusion powder tea supervised by a tea master who knows everything about tea and does not require a teapot.
By using the original bottle container, the powder comes out one cup at a time without the need for a teapot.

We have received many compliments on how easy it is to make and drink whenever you want.
The rich flavor of "Shizuoka deep steamed tea with Uji Gyokuro"
The gorgeous aroma of "Gangaon and Hojicha"
A blend of high-quality tea leaves that brings out the rich aroma, bright color, and refreshing flavor.
Powdered tea is a tea with a very well-balanced flavor, aroma, and taste.
It has a taste that both children and adults will enjoy, with no bitterness.

When you throw away tea leaves, they are full of nutrients that you would otherwise have lost, such as vitamins and dietary fiber.
With Chashi Issen, you can easily get all the nutrients from tea.
Instead of coffee every morning, you can easily drink high-quality tea on the table or as tea for your guests.



Product information
name
powdered tea
Internal capacity
30g(10g×3)
Raw material name
Green tea (domestic production), dextrin (domestic production), Gyokuro (domestic production)
Preservation method
Please avoid high temperature and humidity when storing.
Internal capacity
30g(10g×3)
Preservation method
Please store away from high temperature and humidity.
Preservation method
Please avoid high temperatures and high humidity and be careful of the scent.
Seller
Yamashiro Bussan Co., Ltd. 4-24-6 Minamihorie, Nishi-ku, Osaka

This page is for refills. Container not included.
Click here for products with containers.
*The product with container is currently sold out due to popular demand: Expected to arrive in early February. I'm sorry.
【delivery】
Kuroneko Yamato

【postage】
・Free shipping for purchases over 3,240 yen (tax included).
・If the purchase amount is less than 3,240 yen (tax included), the following shipping charges will be charged.
Hokkaido: 1,540 yen (tax included)
Okinawa Prefecture: 2,200 yen (tax included)
Other prefectures: 770 yen (tax included)

【method of payment】
credit card
We also recommend this product